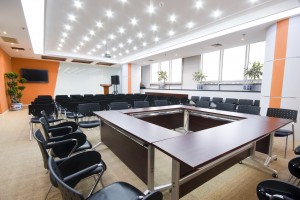 Are you taking on a commercial interior design project? You're not alone. There's a high demand for high-tech co-work space and meeting centers in 2014 office furniture designs. From renovated buildings to new building designs, you can take advantage of a co-work space environment.
Co-work spaces are growing in popularity because the commercial interior designs are revitalizing urban areas.
The standard co-work space interior design can feature hospitality furniture, collaborative corporate furniture, and innovative conference room furniture. The purpose of co-work furniture is to foster better relationships at the workplace.
Shared space can even increase work productivity at high tech startup companies, hotels, educational institutions, and government facilities.
Co-work spaces can be as diverse as you would like your work environment to be. You can have floors at your company solely for private offices and have another floor furnished with teamwork stations and other collaborative furniture items. If you want to get really creative, you can have office furniture placed on a rooftop deck for casual co-work meetings.
Co-work corporate furniture is designed to perfectly store high definition computer monitors and office filing.
Here are some good reasons you should have a co-work space for your commercial interior design:
1. You can offer your employees and entrepreneurs community and solo work spaces simultaneously.
2. Co-work space can be used for both work productivity and if you need a  break.
3. Great way to start up conversations with potential clients. Great connections help find great business leads.
4. You will have an effective office setup by utilizing corporate furniture items like co-work desk chairs. Desk chairs have excellent ergonomics ( great back support and mobility features). Not to mention desk chairs offer plenty of desk space for team meetings, computer equipment and other work essentials.
5. Co-work space corporate furniture can increase your professional business credibility by having readily available conference room furniture and equipment such as projectors.
Have a look at our co-work space corporate furniture today to get started on your co-work space commercial interior design.
Edwards & Hill Office Furniture is a leading office planner and supplier for commercial companies, government agencies and individual consumers nationwide. We sell and install hospitality furniture. We provide interior design and layout services from start to finish. We can even help you relocate and handle planning, marketing, public relations, and film and video production.
Contact Edwards & Hill by clicking here or call us at 301-317-4250 today! We are here to serve you!
Check us out on Facebook, Twitter and LinkedIn as well!
Source: