According to a recent article in Healthcare Design, focus in the healthcare industry has been shifting to and sharpening on something unexpected: the visitor experience. While patients have been and remain the top priority for any healthcare facility, more attention is being paid to their loving families and friends who often have to end up spending just as much time in the hospital as the patient themselves does, and who are a vital part of the patient's treatment process. In order to make visitor centers more welcoming, the healthcare industry is putting a new emphasis on interior design.
The waiting rooms of yesterday had far too much in common with the rest of the hospital: they were spare and sterile. Now, they are becoming more unique; designers are committed to customizing and personalizing the experience as much as possible for visitors. This is leading to less traditional layouts, with different kinds of seating options (think roll-out sofas and reclining chairs) so that everyone can be comfortable, as well as special, additional features to waiting areas, such as meditation centers or reading rooms.
Another aspect of the visitor experience that healthcare centers are taking into consideration is that the family and friends of a patient have to make sacrifices in order to spend time with their loved one. To help with this, hospitals are also moving towards creating technology-friendly areas for people to work in, whether on their laptop, tablet, or even their smart phones so that they do not fall behind on their responsibilities while they are at the hospital.
Edwards & Hill Office Furniture knows that in order for your business to perform at the top of the pack, you have to start with the essentials: quality furniture. Do you have questions about interior healthcare design or any office furniture innovations on the market? Call us today for more information.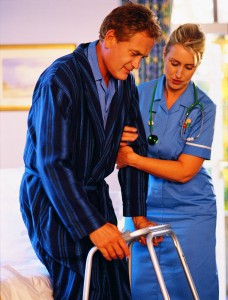 Edwards & Hill Office Furniture is a leading office planner and supplier for commercial companies, government agencies and individual consumers nationwide. We sell and install hospitality furniture. We provide interior design and layout services from start to finish. We can even help you relocate and handle planning, marketing, public relations, and film and video production.
Contact Edwards & Hill by clicking here or call us at 301-317-4250 today! We are here to serve you!
Check us out on Facebook, Twitter and LinkedIn as well!
Source: