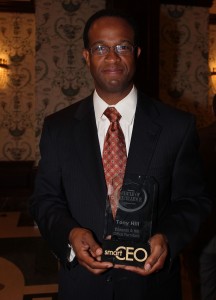 In a recent cover of the Baltimore Business Journal, Edwards and Hill's very own Tony Hill can be seen on the cover as well as quoted in their front cover article. The article, written by Sarah Meehan, discusses the impact of casino revenue on small and minority businesses and contractors.
The article highlights the Small, Minority, and Women-Owned Business Investment Account, which is a fund from the Board of Public Works. The state account is created by slot machine revenue that is then used to help small businesses. The loans offered through the account include an interest rate that is either at or below the market rates. Some of the businesses that were able to receive loans through the account were unable to receive a traditional bank loan for their business. To understand the impact the account has on small businesses, Meehan includes a list of numbers in her article to help readers see the impact:
For the 2014 fiscal year, slot revenue reached $578.4 million.
Of that revenue, $8.4 million was dedicated to the account.
That makes up about 1.5% of the slot revenue that is allotted for small, minority, and women-owned businesses in the state of Maryland.
Some more numbers included in the article break down who received helped from the account program:
In 2013, 45 businesses were approved or received loans
3 were veteran-owned
15 were women-owned
17 were minority businesses
10 were small, non-minority businesses
Our Tony Hill was interviewed for the article to highlight another way the casino business is helping small businesses. Maryland gaming facilities such as Maryland Live! Casino and the future Horseshoe Casino Baltimore are working with minority contractors instead of more established contractors. Edwards and Hill currently furnishes Maryland Live! Casino and will be furnishing the Horseshoe Casino Baltimore. Tony Hill states in the interview that he knows that other contractors have more established resources than himself, but the gaming facilities give contractors opportunities that they might otherwise never have. Maryland Live! President Rob Norton sees the importance of strengthening the community economy. The casino has also hosted fairs for minority contractors to help establish relationships with businesses and vendors.
Edwards and Hill Office Furniture is proud to furnish local casinos as well as providing quality furniture for corporate offices, hospitality businesses, educational settings, and healthcare facilities. Tony Hill has been partnering with Hans Edwards since 1998 to provide quality multimedia and furniture services to a number of different businesses and industries.
To get started with Edwards and Hill, call us today at 301-317-4250. You can also fill out our online contact form to ask specific questions about one of our specific services.
Find us today on Google+, Pinterest, Facebook, Twitter, and LinkedIn.