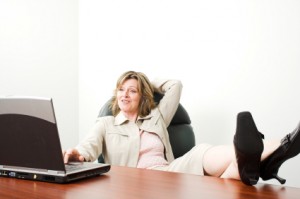 It is no real secret that too much time spent sitting, whether it be for work or leisure, can lead to certain health issues. Previous studies have suggested that too much time in sitting can lead to issues including:
Blood clots
Poor physical functions
Heart disease
Blood sugar and insulin increase
Increased waistline
Early death
Now, in a new study that has been published in the June 16th edition of the Journal of the National Cancer Institute, time spent sitting can now be linked to the increased risk of certain cancers. Researchers involved in the new study decided to focus on 43 specific case studies that linked increased time sitting with 70,000 cases of cancer. The study shows that increased time sitting can cause an increased risk for endometrial and colon cancer. The study breaks down bulk time spent sitting as well as bulk time spent specifically watching television. The study reveals that those who spend most of their time sitting during the day are at a 24 percent increased risk for colon cancer as well as a 32 percent increased risk for endometrial, also known as uterine, cancer. Those who spend the majority of their time sitting watching television are at an even larger risk. These individuals face a 54 percent increased risk for colon cancer as well as a 66 percent increased risk for endometrial cancer. It is believed that the risk increases for those in front of a television because of the increased intake of snacks and drinks that are unhealthy for you. The study also revealed that for every two hour increase of time spent sitting results in a 8 percent increase for colon cancer with a 10 percent increase for endometrial cancer. The increased risk can also be linked to an increase in weight gain, says Dr. Graham Colditz. Dr. Coldizt, an associate director for prevention and control at the Washington University's Siteman Cancer Center is St. Louis, says that the findings from the new study aren't surprising at all.
Edwards and Hill Office Furniture partners with manufacturers and distributors who specialize in ergonomic office furniture that promotes a healthier lifestyle for those who are forced to sit for long periods of time.
Edwards and Hill Office Furniture is proud to furnish local casinos as well as providing quality furniture for corporate offices, hospitality businesses, educational settings, and healthcare facilities. Tony Hill has been partnering with Hans Edwards since 1998 to provide quality multimedia and furniture services to a number of different businesses and industries.
To get started with Edwards and Hill, call us today at 301-317-4250. You can also fill out our online contact form to ask specific questions about one of our specific services.
Find us today on Google+, Pinterest, Facebook, Twitter, and LinkedIn.
Source:
file:///C:/Users/T/Downloads/mmqb070714.pdf