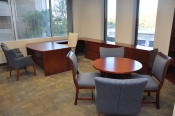 Do you have more introverts than extroverts as employees? It's time to create an office design that truly inspires your introvert employees to open up and engage in more collaborative work while still meeting the needs of extroverts in the office.
Studies have revealed that introverts are not very kin on open office layouts, but there are ways to create collaborative office space that permit introverts to be very productive workers while having enough privacy to feel comfortable within collaborative work spaces.
Having a professional help design your office workspaces can assist introverts and extroverts in becoming more productive workers.
Introverts and extroverts are more successful and productive workers when their work environment offers them the following benefits:
•      Fast and user-friendly technology to perform their work tasks
•      The option to work in both interior and exterior spaces
•      A work environment that's physically comfortable while being mentally stimulating
There are rights and wrongs for designing collaborative workspaces. A collaborative space is not quality workspace when the office layout is too distracting and it does not truly promote work collaboration. The right office layout for a comfortable and productive collaborative space will feature multi-levels of collaborative spaces, while still offering private offices for introverts and extroverts that want a little peace throughout the work day.
Introverts like to work in private offices but they do not prefer to knock on closed doors when they need information or assistance. To address this problem, have office designs with highly visible entry or glass walls to make it more comfortable to walk right in for help.
This is why it's so important to purchase office workstations that you can put in diverse areas of your office. Introverts prefer a work environment that gives them some privacy.
Your office design should never be a one size fits all. You need different office layouts for different workers. Give employees a survey before a full office design to see what office layout is preferred.
Edwards & Hill Office Furniture is here to help your company effectively express your brand through physical space. If you want your product team to work more efficiently with the sales team, we can design an office that can meet that specific organizational goal.
To put it simple, have your office designed and furnished in a way that makes the work environment more than a place for work. Help introverts and extroverts at your company socialize better and maintain better health with ergonomic furniture tailored to collaborative workspaces.
Here are amenities you may want to include for your workers:
•      Television screens
•      Collaborative desking and seating areas
•      Ergonomic chairs
•      White boards
•      Video Teleconference
We are here to provide audio/visual equipment and ergonomic furniture for the office to fit your style and budget needs. Come to our showroom to see what office furniture lines we carry.
Edwards & Hill Office Furniture is a leading office planner and supplier for commercial companies, government agencies and individual consumers nationwide. We sell and install office furniture. We design and plan office layouts from start to finish. We even help you relocate and handle planning, marketing, public relations, and film and video production.
Contact Edwards & Hill by clicking here or call us at 301-317-4250 today! We are here to serve you!
Check us out on Facebook, Twitter and LinkedIn as well!
Source:
http://online.wsj.com/news/articles/SB10001424052702304448204579185823247219090?mod=e2fb
http://www.fastcompany.com/3021206/dialed/how-to-create-an-open-office-that-is-more-awesome-for-both-introverts-and-extroverts