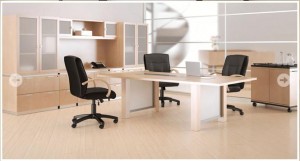 Are you searching for ways to make your office more welcoming just in time for the holidays? Then it's time to improve your office navigation and purchase new, comfortable furniture.
The holiday season is one of the busiest times of the year. When things are busy, the last thing you want clients or new employees to experience is confusion finding office supplies or equipment. You don't want your receptionist directing traffic constantly in the office.
The best office designs are simple, spacious and easy to navigate. To improve the work efficiency at your office, you should purchase furniture that fosters an organized and welcoming work culture.
You can start establishing this type of work atmosphere by laying out intersections around the main traffic area of the office. This office design will promote more work collaboration and help employees get to know each other better.
Next give common areas like copying rooms and break rooms pops of color to help employees easily locate office supplies. You can even color code conference rooms to make those spots more visible to visitors of the office. Some great colors to use for common areas are greens and blues.
After designating these common areas, purchase comfortable workstations for your employees.
There's nothing more beneficial to workers than knowing they have workspaces designed for them to easily find what they need at the right time. Employees also appreciate having workstations that promote good physical health while enhancing their work productivity. To provide your workers a healthy work environment, you should purchase ergonomic furniture such as ergonomic workstations.
Ergonomic workstations are the perfect solution for any office because ergonomic products are designed to reduce physical stress by giving users the opportunity to make adjustments to their workspaces at any given time.
By having adjustable furniture throughout the office, no worker will have to force his or herself to conform to any furniture in the office. A worker that's in control of his or her work environment is a happy and productive worker.
Studies on office work environments have identified that employees are more efficient when their job satisfaction increases. We recommend buying ergonomic chairs and desks to offer your workers a fully customizable work environment. You should also invest in quality storage units and excellent lighting.
Have a conversation with furniture consultants at Edwards & Hill Office Furniture to identify what type of workstations are best for the work tasks performed at your office.
For example, you should purchase receptionist desks that give easy accessibility to your business telephone lines. If you have an accounting department, buy ergonomic desks that position calculators and computer gadgets closer to users than the telephone lines. There are a wide variety of ergonomic workstations available to meet specific job tasks.
To get started on your office redesign, make a list of all the work activities performed at your office. This will help you select workstations that truly accommodate your workers. You should also make a list of office equipment you will need for each task. Edwards & Hill Office Furniture also provides installation for office audio/visual equipment.
We are here to provide ergonomic furniture for the office to fit your style and budget needs. Come to our showroom to see what office furniture lines we carry.
Edwards & Hill Office Furniture is a leading office planner and supplier for commercial companies, government agencies and individual consumers nationwide. We sell and install office furniture. We design and plan office layouts from start to finish. We even help you relocate and handle planning, marketing, public relations, and film and video production.
Contact Edwards & Hill by clicking here or call us at 301-317-4250 today! We are here to serve you!
Check us out on Facebook, Twitter and LinkedIn as well!
Source:
http://myturnstone.com/blog/how-to-use-design-to-navigate-your-way-in-the-office/
http://voices.yahoo.com/how-create-more-welcoming-office-environment-6714434.html?cat=3