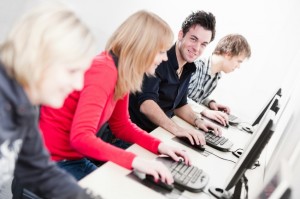 Are you in the midst of redesigning a classroom to increase comfort within your learning environment?
Edwards & Hill Office Furniture is here to help you design a comfortable and healthy learning environment for your students just in time for the back to school craze.
Here at Edwards & Hill Office Furniture, we understand the challenges school administrators face to provide comfortable learning environments that truly promote a positive learning experience.
It's important to have quality school chairs because students spend the majority of their school day in chairs and let's face it, they can be pretty rough on the furniture.
In fact, students ages 13-18 years of age spend at least 78% of their time sitting at school.
Bottom line: Providing students quality school furniture should never be overlooked. It's important to add in the estimated expense for school furniture into the overall budget to keep an adequate supply of school furniture/ school chairs on hand.
Students find it harder to learn and further their educational development when back pains and neck pains are preoccupying their minds.
Ergonomic school chairs are designed to effectively accommodate student postures rather than force students to adjust themselves to poorly designed chairs.
The ideally ergonomic school chairs will:
-Help students to better focus on educational material and class discussions for extended periods of school times. Ergonomic school chairs are especially valuable to students prone to fidgeting. By maximizing their comfort levels with ergonomic chairs, you can help fidgeting students increase their attention spans.
-Reduce body aches and pains that come from low end school chairs that lack adequate support.
The most in-demand ergonomic chairs for classrooms are plastic chairs because plastic chairs are durable and easier to clean than some other types of school chairs.
Wooden chairs are second in popularity because the chairs offer low maintenance cleaning and they are also very durable. If you want a classic classroom look, you can't go wrong with wooden chairs.
What are the ergonomic chair styles available for schools?
The traditional four leg chairs with caps. These chairs are perfect for classrooms with hardwood floors because the chairs prevent scraping of hardwood floors.

Sled base chairs. They are called sled base chairs because they offer easy gliding of chairs across hard floors and carpets.

School chairs with casters. These chairs resemble office chairs to help students maneuver chair position with a simple turn. It's a great solution for helping students switch positions.
Here at Edwards & Hill Office Furniture we have available ergonomic chairs in variety of colors to complement your classroom environments – black, red, blue, yellow, green, brown…you name it, we got it.
We have wooden chairs to give you that classic classroom appearance that helps students feel right at home. When students, see that a classroom has a high quality look and feel, they are likely to feel that the education offered is high quality.  When a school and a classroom is well furnished and clean, it increases the level of respect that the students have for their school and ultimately, themselves.  There is nothing like school spirit to help students achieve.
Edwards & Hill Office Furniture is a leading office planner and supplier for commercial companies, government agencies and individual consumers nationwide. We sell and install office furniture. We design and plan office layouts from start to finish. We even help you relocate and handle planning, marketing, public relations, and film and video production.
Contact Edwards & Hill by clicking here or call us at 410.884.8450 today! We are here to serve you!
Check us out on Facebook, Twitter and LinkedIn as well!
Source:
http://ezinearticles.com/?School-Chairs—Adding-Comfort-to-the-Learning-Environment&id=6582236
http://officefurnitureanddesks.com/office-chairs/wood-office-chair/