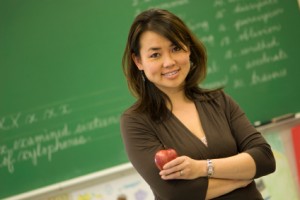 As we enter into the middle of the summer season, the thought of the classroom is sure to be creeping its way back into the minds of teachers. While their classroom design is probably the last thing on their mind, new studies are showing that the design and decorating scheme of a classroom may have a significant effect, both positive and negative, on the way students learn and how much information they retain.
In a recent study performed by Carnegie Mellon University, younger students retain more information in classrooms that lack decoration. When 24 kindergarten students were taught subjects in two different classrooms, one with colorful decorations and one with plainer walls, the students tested better on subjects taught in the latter classroom. This led researchers to believe that students are more likely to be off-task when there are distractions surrounding them.
Another study performed during the 2011-12 academic year in Blackpool, England suggests that a number of factors in the classroom can affect the learning and retention of students. The study was performed by the University of Salford School of the Built Environment and involved 751 students in 34 different classrooms. Researchers tested the classrooms on 10 different characteristics that were:
Texture
Color
Choice
Air Quality
Light
Temperature
Connection
Complexity
Sound
Flexibility
Of the ten characteristics, six showed an effect on the students learning. Those characteristics were:
Light
Connection
Complexity
Choice
Color
Flexibility
Of the characteristics, at least two involved the furniture within the classroom. The ability to rearrange classroom furniture along with the ability to accommodate yet not crowd students was considered flexibility. The quality of furniture provided to the students along with the selection of ergonomic chairs and tables was categorized as choice. These characteristics are important to keep in mind as the new school year slowly approaches teachers.
At Edwards & Hill Office Furniture, we offer a wide variety of furniture to meet your classroom needs. We are also authorized dealers of a number of top brand names in the educational furniture industry.
Edwards & Hill Office Furniture is a leading office planner and supplier for commercial companies, government agencies and individual consumers nationwide. We sell and install hospitality furniture. We provide interior design and layout services from start to finish. We can even help you relocate and handle planning, marketing, public relations, and film and video production.
Contact Edwards & Hill by clicking here or call us at 301-317-4250 today! We are here to serve you!
Check us out on Facebook, Twitter and LinkedIn as well!
Sources:
http://www.mmqb.com/tcmmqbnew/tcmmqbnew.rsc
http://www.fastcodesign.com/1671627/study-shows-how-classroom-design-affects-student-learning