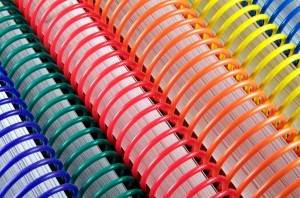 How colorful is your office? Are you finding yourself simply staring at white walls? Studies have shown that bare white walls can create a negative atmosphere within an office and can actually prevent creativity.
Feng Shui is a practice that was created over 3,000 years ago by the Chinese. It was built based around the balance of energies within a room to create an atmosphere that promotes good fortune and health. Today, many businesses and homeowners take aspects of Feng Shui and apply them to help increase the positive energy within the room. While some aspects include moving pieces of furniture, others deal with colors used in rooms.
So what colors are recommended for Feng Shui practices?
Black and Blue- This pairing represents water within your office. The two colors used together can add a relaxing and peaceful element to your office. This pairing is also found within hospitals to help calm patients.
Brown and Green- These colors are related to the element of wood, which can represent wealth in Feng Shui. You can implement these colors within your office with a solid wood desk or a potted plant.
Orange and Red- This color pairing represents fire and can be a symbol for energy and passion. Use these colors sparingly throughout the office to promote energy. Too much of these colors can cause anxiety, so be careful.
Beige and Yellow- These colors are known to represent Earth. Use these to help promote stability throughout your office.
While you may not believe in the "balance of energies" within a room, it is a good idea to implement color throughout your office to help promote creativity and productivity. Achieve these looks through décor, paint, and furniture to add a new element to your office.
Edwards & Hill Office Furniture is proud to furnish corporate offices as well as providing quality furniture for hospitality businesses, educational settings, local casinos, and healthcare facilities. Tony Hill, Managing Partner, and Hans Edwards, Partner, have been working together since 1998 to provide quality multimedia and furniture products and services to a number of different businesses and industries.
To get started with Edwards & Hill, call us today at 301-317-4250. You can also fill out our online contact form to ask specific questions about one of our specific services.
Find us today on Google+, Pinterest, Facebook, Twitter, and LinkedIn.
Source:
http://goo.gl/p6RMPI