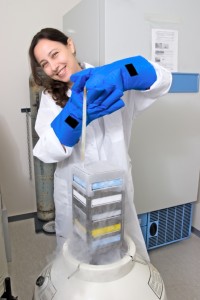 Designing a high school science lab for a public or private school is never easy. Edwards & Hill Office Furniture is here to give you a few pointers on designing a highly functional high school lab design.
Often in high schools science labs are created with specific scientific disciplines in mind. Here are some standard high school lab designs:
Physics Lab

Chemistry Lab

Biology Lab
Or a common lab design could be offered to accommodate all of the above.
The typical science lab includes furniture items such as counters, base cabinets, wall cabinets and fixed islands.
It is recommended that high school labs house at a maximum 24 students at a time and spacious enough to provide 6 square feet per student in a lab.
Ergonomic furniture items and flexible furniture arrangements are highly recommended for science lab designs.
Each lab table should be a comfortable enough station for at least two students.
Lab tables with epoxy resin or phenolic resin tops will make for sturdy workstations. The top is durable and will hold up to chemicals.  Movable tables will provide the best flexibility for easy transitions from lab discussions to presentations.
Here are some other lab furniture essentials:
Ventilation system such as a fume hood

Fixed Lab Stations
When designing keep these three words in mind:
Ventilation

Visibility

Projection
To meet these lab safety requirements, the lab should have moveable tables that can be positioned in a rectangle or square format, known as the pier table design. The pier table design will provide a clear path for supervisors to monitor lab students. Fixed lab stations should be installed on the walls of the room. The teacher should have a fixed table front and center of the pier design layout.
Plastic laminate pier tables are great moveable tables that feature sturdy ergonomic chairs.
Have laminate laboratory casework installed on the walls of the lab as well as laminate pier tables.
To have a modern chemistry lab designed for you take a look at Edwards & Hill Office Furniture's laboratory furniture (test tub racks, cabinets and more) and ergonomic furniture lines.
Edwards & Hill Office Furniture is a leading office planner and supplier for commercial companies, government agencies and individual consumers nationwide. We sell and install office furniture. We design and plan office layouts from start to finish. We even help you relocate and handle planning, marketing, public relations, and film and video production.
Contact Edwards & Hill by clicking here or call us at 410.884.8450 today! We are here to serve you!
Check us out on Facebook, Twitter and LinkedIn as well!
Source:
http://www.longolabs.com/tag/high-school-lab-design/
http://www.slideshare.net/LongoLabs/planning-science-facilities-for-education-lab-design-concepts
http://www.ehow.com/how_8726545_decorate-mad-scientist-lab-halloween.html