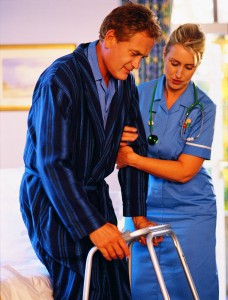 After a discussion with the director of Sherwin-Williams color marketing Jackie Jordan, it would appear that many healthcare facilities have the wrong idea when it comes to color schemes throughout their facilities. While some facilities may believe they are doing the right thing when painting accent walls or using certain colors, they are actually making some major mistakes. There are plenty of ways to incorporate colors throughout healthcare facilities; you just have to approach each room and facility individually.
The main mistake commonly found in healthcare facilities is the use of the wrong colors in the wrong areas. Ultimately, each specific area should have its use determined before any painting takes place. Whether the space is to be used as a waiting area, activity area, patient room, or exam area; the space should then be observed for surfaces that cannot change. This includes flooring, countertops, and work stations. These surfaces should be used as inspiration for the rest of the room.
Bright reds and yellows are commonly misused in areas where more subdued colors should be incorporated. Should reds and yellows be used, activity areas for children are the perfect place to use them. These bright colors can make other patients and older patients more anxious, especially when awaiting news. Instead, there should be a balance of both cool and warm colors throughout the rooms. Cool colors like blues and greens help create a relaxing and calm atmosphere for patients and visitors. Warm colors will help balance the room and incorporate a comforting atmosphere. If an accent wall is wanted, use the wall behind the bed of the patient. Brighter colors can become distracting for patients, so accent walls should never be placed directly in front of them. Curtains used for windows and as room dividers are also great ways to incorporate pops of color throughout a facility.
Edwards and Hill Office Furniture is proud to furnish healthcare facilities as well as providing quality furniture for hospitality businesses, educational settings, local casinos, and corporate offices. Tony Hill has been partnering with Hans Edwards since 1998 to provide quality multimedia and furniture services to a number of different businesses and industries.
To get started with Edwards and Hill, call us today at 301-317-4250. You can also fill out our online contact form to ask specific questions about one of our specific services.
Find us today on Google+, Pinterest, Facebook, Twitter, and LinkedIn.
Source: