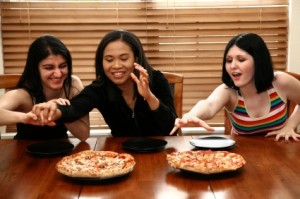 Arranging students in a cafeteria can be a pleasant social environment or a full out nightmare. With the right traffic flow and cafeteria furniture, you can promote good behavior in students and provide them a fun, comfortable lunchroom experience.
When students and visitors to the school step in the cafeteria, you want the lunchroom to look impressive and make socializing easier.
Good traffic flow and quality cafeteria furnishing should be top priority in cafeteria design.
To improve traffic flow, make sure that lunch lines are carefully planned out from classroom to cafeteria. This will help students spend less time in the cafeteria line and they can be seated quicker.
It is best to seat students in order of food giving. Make sure cafeteria tables provide plenty of walkway space between each other to make seating and lunch dismissal as easy as possible.
As for making lunch supervision easy, there should be no cafeteria furniture items obstructing cafeteria vision. This will help with cafeteria noise control because supervisors can teach, enforce, and reinforce all lunchroom rules based on observing student behaviors.
Another cafeteria design must is having vibrant colored furniture and interior design features.
Colorful cafeteria furniture and overall cafeteria design will help students remain energized for afternoon lessons.
Sterile cafeterias only make students feel sluggish after lunchtime.
Furnishing the cafeteria with colorful ergonomic chairs and other ergonomic furniture items will keep students engaged for learning and comfortable during eating.
You should also consider the following cafeteria furnishings and decorations:
Wall murals. They are lovely artistic additions to cafeteria settings.

Round cafeteria tables are perfect for socializing.

Rectangular cafeteria tables make for great serving tables.
Learn more about educational furniture applications and cafeteria furniture items now.
Edwards & Hill Office Furniture is a leading office planner and supplier for commercial companies, government agencies and individual consumers nationwide. We sell and install office furniture. We design and plan office layouts from start to finish. We even help you relocate and handle planning, marketing, public relations, and film and video production.
Contact Edwards & Hill by clicking here or call us at 410.884.8450 today! We are here to serve you!
Check us out on Facebook, Twitter and LinkedIn as well!
Source: http://www.educationworld.com/a_admin/admin/admin493.shtml
http://www.muralsyourway.com/buyers-guide/school-cafeterias-can-benefit-from-a-little-color-/
http://answers.yahoo.com/question/index?qid=20110907173528AAc8dEn