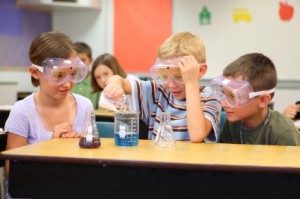 Early Childhood Education is one of the most important stages of a child's learning development. You can help children become life long learners by designing day care classrooms that ease the learning processes for young children during their knowledge acquisitions.
The average day care classroom should accommodate a maximum of 20 children and two staff members at a time.
A well-designed day classroom can help students increase their self-esteem, positive feelings about learning, and improve their overall social skills.
The traditional day care offers a process curriculum for children and your day care school furniture should adjust to this curriculum.
Edwards & Hill Office Furniture is here to offer you furniture consultation, as well as interior designs services, to create a learning space that truly helps children reap the benefits of early childhood education.
When shopping for day care school furniture, always purchase flexible furniture items.
A very popular, flexible furniture item a day care classroom could utilize is shelving that's easily movable. Shelves make for great day care shortage areas, specifically stackable shelves.  Be sure that anything that is stacked can be secured for safety.
All school furniture should be designed for multiple-purpose usage and promote social interactions between children such as ergonomic chairs.  You might consider some with wheels that can be locked.
Children learn best when they are provided collaborative workstations. This allows them to better observe their learning environments.
You can create a good ambiance by furnishing your day care classrooms with color tables and chairs.
If you design your classroom with the need of your students in mind, then you never have a problem optimizing the classroom space to fit educational needs.
Edwards & Hill Office Furniture is here to plan and complete your day care center-based classroom design.
What is a center based classroom design?
It's a classroom layout that creates sections within the learning environment to keep your classroom organized and intriguing to young children.
Here are some common centers featured in day care classrooms:
-The student library
-The Music center
-The Art center
-The computer lab
-The snack area
-The playroom
No matter how many centers you choose to have for your day care classroom, never neglect your basic layout plan.
When students enter your classroom, cubbies or lockers should immediately greet them. These storage units are perfect for storing coats, school supplies, rain boots and umbrellas.
These classroom features will help young children develop the skills to effectively cooperate, share and take turns with others.
You can also use the diverse furniture items in your day care to teach children about problem solving, matching and comparisons by going over with them the process of good interior design.
Edwards & Hill Office Furniture is ready to design day classrooms for you that truly address early childhood education needs such as social skills, cognitive skills and language skills.
Start planning out your classroom furniture design as well as layout today.
Have a look at our school furniture and hospitality furniture  for more information.
Edwards & Hill Office Furniture is a leading office planner and supplier for commercial companies, government agencies and individual consumers nationwide. We sell and install office furniture. We design and plan office layouts from start to finish. We even help you relocate and handle planning, marketing, public relations, and film and video production.
Contact Edwards & Hill by clicking here or call us at 410.884.8450 today! We are here to serve you!
Check us out on Facebook, Twitter and LinkedIn as well!
Source:
http://ldt.stanford.edu/~deepakk/RedesigningPreschoolClassroom.pdf
http://voices.yahoo.com/a-center-based-preschool-classroom-design-1731979.html?cat=25