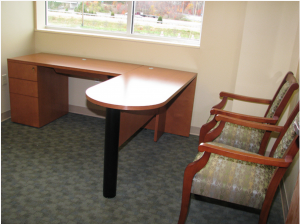 Co-working spaces. Could it be another wave of the future office workspace? It may be so. What are co-working spaces? Co-working spaces are similar to satellite office spaces as the office design is separate from the main office.
Why are so many small businesses and thought leaders redesigning office spaces for co-working office spaces?
The answer is the advantages that come with co-working office spaces. In fact the office furniture used for co-working spaces have improved sales for companies, opened doors to new business opportunities and allowed companies to enter different market segments.
Companies can save money by utilizing co-working spaces because employees can reduce their need for long commutes or prevent downtime for a company when permanent office renovations are being completed.
These great advantages are making businesses small and large consider co-working spaces as permanent spaces for the modern office. Co-working spaces are becoming more infrastructure rich in design and truly enabling the workforce to be more mobile and educated as they connect with different organizations via co-working environments. To put it simple, co-working spaces can help organizations identify how their employees work best.
Since 2006, co-working spaces have doubled. The standard co-working space includes ergonomic office desks, conference room furniture, collaborative workstations and other unique office furniture setups.If you are looking for ways to improve your networking and workforce training, co-working spaces may be office space you may want to utilize.
You can learn more about the benefits of co-working spaces by reading 'Commercial Interior Design: How can I take advantage of a Co-Work Space?'
Have a look at our Office/Corporate Furniture and Supplies to get started on your co-working space design.
Edwards & Hill Office Furniture is a leading office planner and supplier for commercial companies, government agencies and individual consumers nationwide. We sell and install hospitality furniture. We provide interior design and layout services from start to finish. We can even help you relocate and handle planning, marketing, public relations, and film and video production.
Contact Edwards & Hill by clicking here or call us at 301-317-4250 today! We are here to serve you!