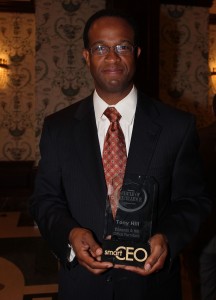 Great news! Edwards & Hill Managing Partner Tony Hill was nominated as a finalist in the Minority Owned Business category for the 2013 SmartCEO Circle of Excellence award. Tony won this esteemed award last Thursday October 3, 2013 at the SmartCEO gala held at the Grand Lodge of Maryland in Cockeysville, MD.
About the SmartCEO Circle
The Baltimore SmartCEO 2013 Circle of Excellence Awards is an annual award ceremony that recognizes business leaders in Baltimore for their industry excellence/ business achievements.
Winners of the SMartCEO Circle of Excellence award are CEOs that successfully took some aspect of their business to the next level in a way that's rarely achieved by companies within their industries.
29 finalists were chosen for the SmartCEO 2013 Circle of Excellence Award, only 10 winners were chosen from the following industry categories:
-Accounting
-Construction
-Family Business
-Finance
-Healthcare/Wellness
-Manufacturing
-Minority Owned
-Nonprofit
-Real Estate
-Nonprofit
These top CEOs help employ over 3,000 workers in the Greater Baltimore area; 2013 is the 5th year of the Circle of Excellence program.
Tony was chosen as the winner of the Minority Owned Business category because he has led the commercial furniture company ahead of its 3 year business plan of growth, while increasing the business revenues by 98 percent.
Over the past 15 years Edwards & Hill Office Furniture has reinvented itself from a Communications marketing/event company to a commercial furniture business that sells and installs furniture for schools, laboratories, healthcare facilities, the hospitality industry and commercial offices. Tony and Hans Edwards (business partner) have taken on big interior design projects like the Gaylord National Resort & Convention Center. During this hospitality project, Tony and Hans team installed a total of 2,000 guests rooms, 74 guest rooms every 24 hours, during 36-hour shifts to complete the project on time.
But that's not the only reason Tony is a business leader of excellence; he is also an outstanding community leader.
Edwards & Hill Office Furniture has supplied the non-profit Young Audiences with $70,000 worth of furniture and interior design services to furnish the non-profit organization's new offices. Edwards & Hill Office Furniture is also a sponsor of children, families and small businesses in developing countries, including during times of natural disasters.
See events from the gala awards and watch the video of the SmartCEO nominees (including Tony):
To learn more about Edwards & Hill Office Furniture's accomplishments, read Edwards & Hill Office Furniture makes headlines in the Monday Morning Quarterback Magazine.
Edwards & Hill Office Furniture is a leading office planner and supplier for commercial companies, government agencies and individual consumers nationwide. We sell and install office furniture. We design and plan office layouts from start to finish. We even help you relocate and handle planning, marketing, public relations, and film and video production.
Contact Edwards & Hill by clicking here or call us at 301-317-4250 today! We are here to serve you!
Check us out on Facebook, Twitter and LinkedIn as well!
Source:
http://www.smartceo.com/pressrelease/baltimore-smartceo-celebrates-2013-circle-excellence-finalists-and-winners-and-announce