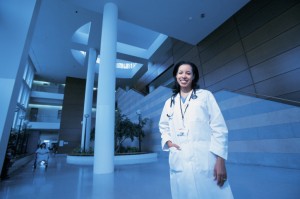 The world of textiles is a confusing one. With so many different options and styles, even the most qualified designer can drown, let alone a beginner in the world of interior design. Add the healthcare factor and your textile world just became ten times more confusing than before. The healthcare profession adds another layer of difficulty because of its specific needs and demands when it comes to textiles. Luckily for interior designers dealing with the healthcare industry, the search for textiles just become a lot easier.
This past NeoCon, many manufacturers rolled out new healthcare fabrics. Their websites have tools that can be used to educate those within the field on healthcare textiles. The information provided can be used to gain a better understanding of the industry and the specifications that come with the healthcare environment. Using the right textile can improve the performance of the caregiver, ultimately improving the experience of the patient. It can also improve the mood and calm the nerves of an anxious patient. Companies like C.F. Stinson have come up with "Positive Distraction" fabrics specifically for use in pediatric areas. The information provided on these websites will allow designers to choose the best textile for both performance and aesthetics. Some other manufacturers of healthcare fabrics include:
Momentum
Maharam
Pallas Textiles
Once you have clicked on a healthcare-specific textile, you are given information about the textile including:
Protective Finish
Abrasion
Stain Cleanability
Environmental Impact
Characteristics
Performance
If you are still having trouble deciding on a fabric, give Edwards & Hill a call, and one of their knowledgeable designers can assist you in picking out the proper fabric for your environment. We can also assist in ordering fabric samples to make your decision easier.
If the designer has already chosen a fabric, they should then make their way to Edwards & Hill Office Furniture, where we offer an array of medical and healthcare furniture to match your chosen textiles and increasing the overall productivity of your caregivers.
Edwards & Hill Office Furniture is a leading office planner and supplier for commercial companies, government agencies and individual consumers nationwide. We sell and install hospitality furniture. We provide interior design and layout services from start to finish. We can even help you relocate and handle planning, marketing, public relations, and film and video production.
Contact Edwards & Hill by clicking here or call us at 301-317-4250 today! We are here to serve you!
Check us out on Facebook, Twitter and LinkedIn as well!
Source:
http://www.mmqb.com/tcmmqbnew/tcmmqbnew.rsc