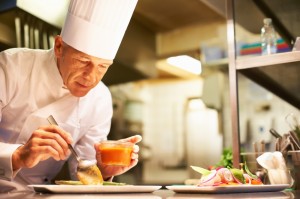 The hospitality industry can cover a number of different establishments that require their own set of furniture. While hotels will require a number of beds and chairs, restaurants will require a full dining room. If you are in the process of opening a new restaurant, it's important that you have the correct pieces of hospitality furniture. Without the correct types and amounts of furniture, your restaurant will be struggling from the beginning.
The first thing that must be determined is the type of restaurant you are opening. While most restaurants will require the same general pieces of hospitality furniture, different styles will require different pieces. A more casual restaurant could call for more booth seating and brighter light fixtures while a more formal restaurant will require sturdier tables and softer lighting. If you are planning on having a bar of any kind, you will need to stools to provide seating for guests. A restaurant will also require a podium of some sort to help with host duties as well as plenty of seating arrangements for waiting guests.
Once you establish the type of hospitality furniture you will require, you can decide on color schemes helping create the style, theme, and atmosphere for your establishment. Bright colors are typically used in more casual atmospheres while darker neutrals are used for more formal restaurants. You can also use the color scheme of your furniture to help create a marketable brand for your new establishment.
Edwards & Hill Office Furniture is proud to furnish corporate offices as well as providing quality furniture for hospitality businesses, educational settings, local casinos, and healthcare facilities. Tony Hill, Managing Partner, and Hans Edwards, Partner, have been working together since 1998 to provide quality multimedia and furniture products and services to a number of different businesses and industries.
To get started with Edwards & Hill, call us today at 301-317-4250. You can also fill out our online contact form to ask specific questions about one of our specific services.
Find us today on Google+, Pinterest, Facebook, Twitter, and LinkedIn.