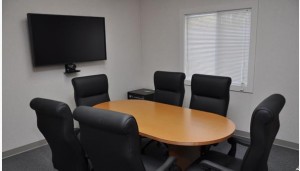 Is your conference room in need of an extreme makeover?
Edwards & Hill Office Furniture is here to style up your conference room from ceiling to floor.
Conference room designs: What do you need to pay attention to?
Setting up a comfortable and highly functional conference room may sound easy, but it can be a challenging interior design project if you have no idea where to start.
The key to completing a great conference room design project is to pay attention to detail.
The most commonly used furniture pieces for conference rooms are:
Conference tables

Ergonomic Chairs

But don't forget the Audio Visual components

Wire Management
For the conference room table, you need to pay attention to the height of the table compared to the height of chairs placed around the table. Clients and employees should never feel like they are squeezing their legs underneath the table. They should have plenty of room to move their legs up and down, as well as extend their legs forward or to the side without bumping into the legs of others.
Next, it is important for the conference room to be painted a neutral color to create a fresh and welcoming atmosphere. This is especially important for videoconference rooms because dark or bright walls force those trying to view presentations to strain their eyes.
Nonetheless, you should utilize the space and furniture of your conference room to make a positive statement about your company's business practices and operations. For the best decorative results, your conference room interior design should give off a unified look.
You can pull this off with the following interior design tactics:
Furnish the conference room with leather ergonomic chairs. Leather furniture can let clients know that your company is serious about business when it comes to communicating sophistication and quality products/ services.

Purchase modern furniture. This will let your business partners and clients know that you're a highly innovative company that's up on the latest in your industry while still maintaining an upbeat, energetic work atmosphere.

Add in your company's personality. It is a great idea to have your company photos and awards on display for business partners and clients to give off good vibes about your company and its positive impact on the community.

Plan the conference room design/ theme around your selected conference room table. This is a great design strategy because the conference table is always the centerpiece and all other furniture items can be compared to how well they flow naturally with the table.
Conference room tables commonly come in the form of a rectangular shape or a similar shape like boat shaped. The conference table you select for your business will all depend on how intimate you want the space to be for business partners and clients.
If you have a large room, we recommend purchasing a rectangular conference table rather than a round table because small conference tables look awkward in large conference rooms. Edwards & Hill Office Furniture can assist you in selecting a conference table that's proportionate to your conference room design.
Consider a round conference table when you have a small to regular sized conference room. The round tables are perfect for businesses that prefer collaborative work because the shape of the table promotes closeness.
We have an excellent selection of modular conference tables and other essential conference room accessories – white boards, projection screens, and serving credenzas.
Edwards & Hill Office Furniture guarantees economic, durable conference room furniture and installation services for all types of industries. Place your order today.
Edwards & Hill Office Furniture is a leading office planner and supplier for commercial companies, government agencies and individual consumers nationwide. We sell and install office furniture. We design and plan office layouts from start to finish. We even help you relocate and handle planning, marketing, public relations, and film and video production.
Contact Edwards & Hill by clicking here or call us at 410.884.8450 today! We are here to serve you!
Check us out on Facebook, Twitter and LinkedIn as well!
Source:
http://www.lifesize.com/videoconferencingspot.com/?p=4100
http://voices.yahoo.com/office-decorating-design-ideas-conference-rooms-7347946.html?cat=30
http://operationstech.about.com/od/furnishinganoffice/a/OfficeMtgConfRm.htm