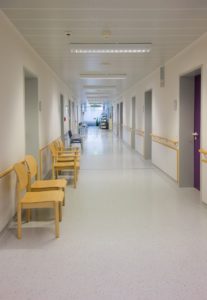 Hospitals, dental offices, and other similar facilities need appropriate healthcare furniture beyond healthcare equipment. Furnishing these places can be an overwhelming task. How will the healthcare furniture support patient wellness and healing, and make the healthcare facility an overall better place? Designing patient-centric hospital environments requires selecting furniture that meets healthcare facility standards while benefiting all hospital visitors. Check that the healthcare furniture you purchase meets these four key characteristics.
Cleanability
Maintaining high sanitation standards in a healthcare environment is paramount to patient — and frankly, human — safety. Sick patients with compromised immune systems are susceptible to further illness or infections if hospitals aren't kept clean and sanitized. For furniture that is in constant use and contact with multiple people, choosing pieces that are easy to benefits everyone. Choose nonporous materials for your furniture, such as laminate desks and chair coverings that won't harbor bacteria as easily. Vinyl or plastic upholstery that can be wiped and disinfected with cleaning solutions have better cleanability than fabrics.
Durability
Everyone wants durable furniture because it's longer-lasting. In a hospital setting, durable furniture means less prone to scuffing or scratches. These abrasions to the furniture material can harbor harmful germs. Moisture-resistant coverings or furniture materials further improves the longevity of the furniture pieces. Know that healthcare furniture must endure use by all types of people. Choosing high-quality, constructed furniture means it can withstand long term use and cleaning.
Comfortable
Patient-centric healthcare furniture should be comfortable to use by any patient in any condition. Ergonomic furniture is designed for comfort. Patients and their families need comfortable waiting area seating, but don't forget that hardworking healthcare staff needs comfortable furniture too. Geriatric patients may need seating to accommodate their reduced mobility and strength when getting out of a seat. Bariatric furniture accommodates those with obesity. Seating for these patients usually are wider or don't have constricting armrests.
Attractiveness
With all the healthcare furniture selections, try to maintain an overall attractive and welcoming appearance. Designing a pleasant hospital environment can go a long way in improving morale in an otherwise sterile hospital environment. While the functionality of the furniture is foremost in many situations, don't forgo efforts in creating a pleasing space.
Choose Edwards & Hill for Your Hospital Furniture and Design Needs
Are you ready to redesign your hospital rooms to further promote healing and wellness? Edwards & Hill can help you design and install the perfect designs for your medical facility. Edwards & Hill is a leading office, education, medical, and hospitality furniture provider with high-quality design and installation services for any style or scale. If you are ready to get your hospital room design started, contact us online or give us a call at 301-317-4250. For more furniture design tips, follow us on Facebook, Twitter, LinkedIn, Pinterest, Flickr, and YouTube.
EDWARDS & HILL WAS RECOGNIZED BY LIVE! CASINO & HOTEL & THE MARYLAND WASHINGTON MINORITY COMPANIES FOR OUR 20TH ANNIVERSARY!